Our vineyard, varietals & Terroirs
Our vineyards extend over 19.10 ha around the Castle. They are spread over two terroirs: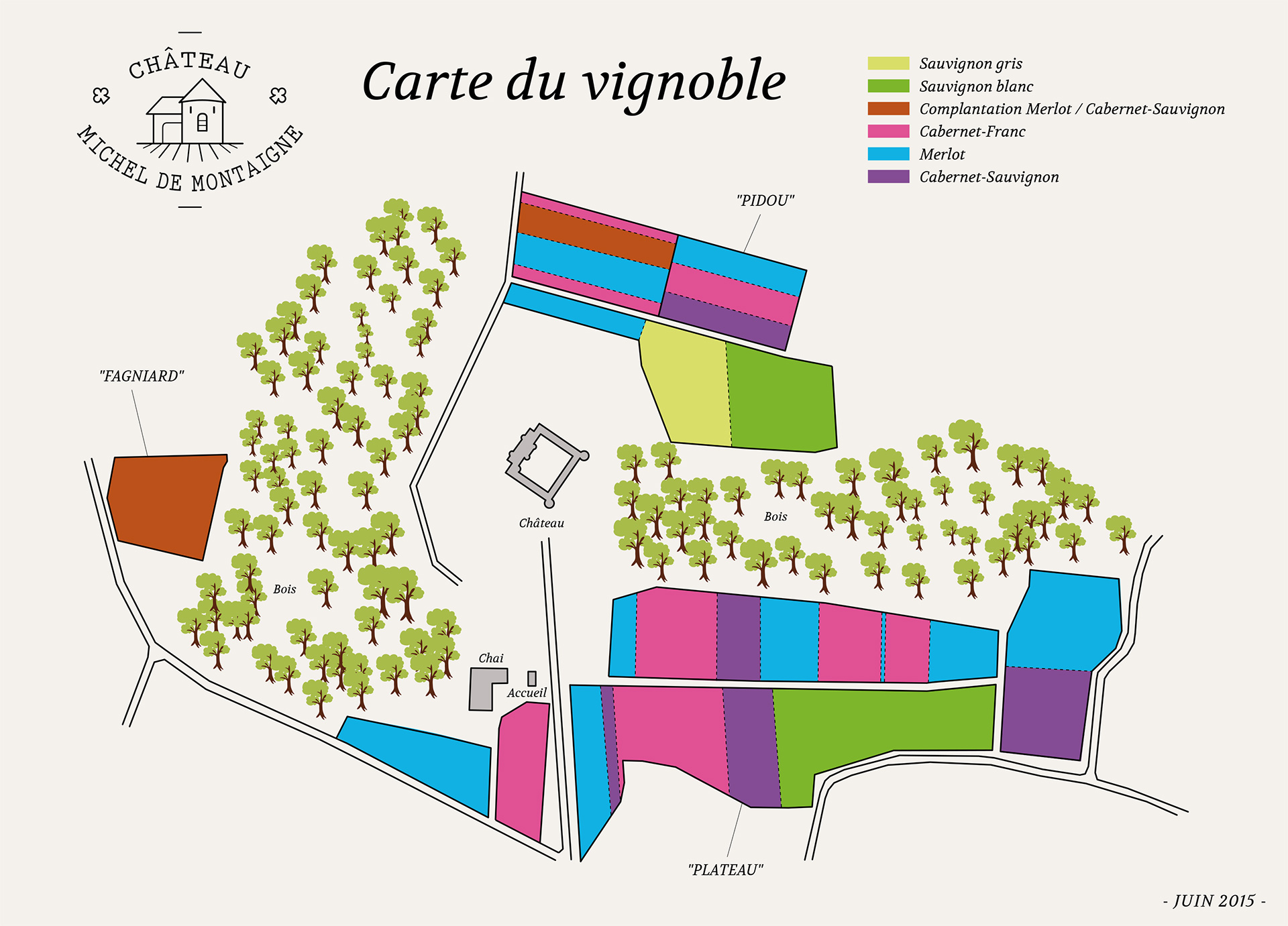 The "Plateau" (12.50 ha)
Located just outside the castle and our cellars, it consists of relatively deep clay and limestone soils (1.50 meters) which rest on the bedrock limestone (limestone Castillon). This configuration ensures proper regulation of water for the vines without excess wet year or a dry year water stress.
The dominant position and clear of this great terroir ensures very good ventilation and excellent sun, which promotes maturity and concentration of our red and white varieties.
"Pidou" and "Fagniard" (6.50 ha)
Located below the castle, it is a typical foot hillside terroir of the region, made up of shallow clay-limestone soil (80 cm) on molasses Fronsac.
This cooler terroir allows us to produce Sauvignon which perfectly complement those richer, products on the Plateau. This is also an interesting terroir for Merlot, grape sensitive to excess heat.
To preserve the diversity that made the reputation of our land, our vines are composed of grapesred and white grapes
The red varieties (74%)
These are the traditional red grapes of the region: Merlot (6.80 ha), Cabernet Franc (4.40 ha) and Cabernet Sauvignon (3 ha). The vines are over 40 years of average age, guaranteeing a deep root that can express the potential of our soil.
It is from these grapes we produce our two red Bergerac "Tradition" and "LEs Essais", and our wine "Rosé".
The White varieties (26%)
Our grape varieties are traditionally dominated by Sauvignon Blanc (3.90 ha). Assembled with gray Sauvignon (1 ha), it is the backbone of our Bergerac Blanc Sec. Harvested at higher maturity, and complemented by a touch of gray Sauvignon, it gives our Côtes de Bergerac Sweet White.